Void Fill

Artists: Samantha M. Connors, Cynthia Reynolds
Curator: Danielle Degon

AUTOMAT Collective | Philadelphia, PA
Void Fill is an exhibition of sculptural installations created from discarded, mass-produced materials. From the streets of Philadelphia and New York City, Samantha M. Connors and Cynthia Reynolds scavenge single use materials from construction sites, consumer waste bins, and shop owners desperately trying to displace their excess. From familiar markers of consumption habits like cardboard and plastic packaging, the artists create works that expose the effects of overproduction on our mental health and relationship with objects. Their precise reconstructions of waste contemplate the construction of self as commodity and reflect the alienation that accompanies forces of extraction.
B.O.B. (bottom of basket)
cement
11" x 14" x 9"

AUTOAMT Collective | Philadelphia, PA
October 23 - November 21

B.O.B. (bottom of basket) is a cement cast of a 24-case of plastic water bottles. Its title refers to an acronym used by retail corporations to ensure that cashiers charge for items stored at the bottom of a customer's basket.
Fear of Becoming the Fool
steel wire, Disperse red 9
126" x 14'

Straw Gallery | Philadelphia, PA
March 13 2020 - present

An installation of horizontally strung segments of barbed wire that connect the opposing gallery walls, beginning at the floor and continuing up to a height of fifteen feet. Each segment of barbed wire has been carefully hand-twisted and coated in Disperse red 9, a transferrable red dye that is used in smoke grenades and theft-protection dye packs. Segments of barbed wire span across the gallery every eight inches, creating an impenetrable border that marks anything with which it comes into contact.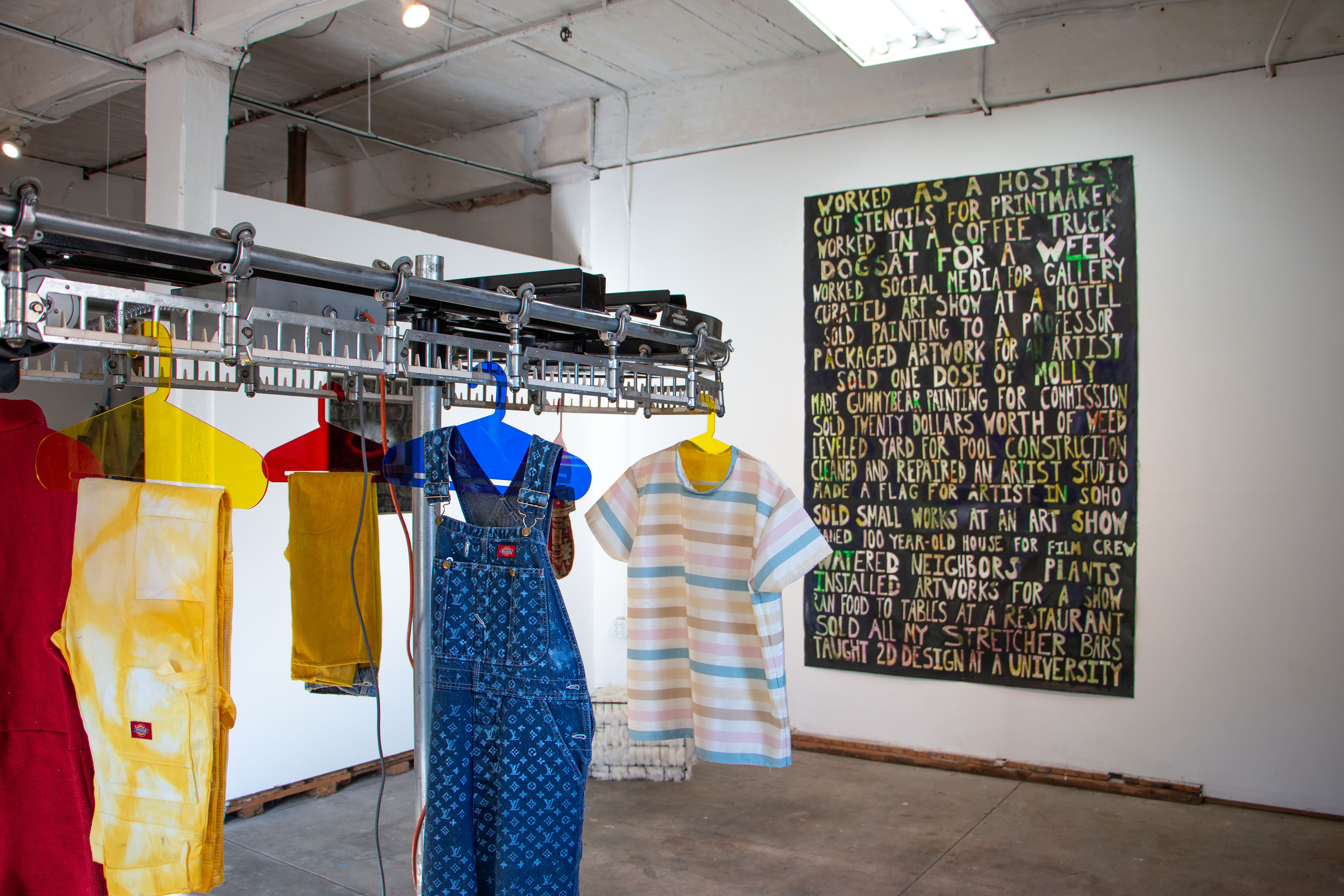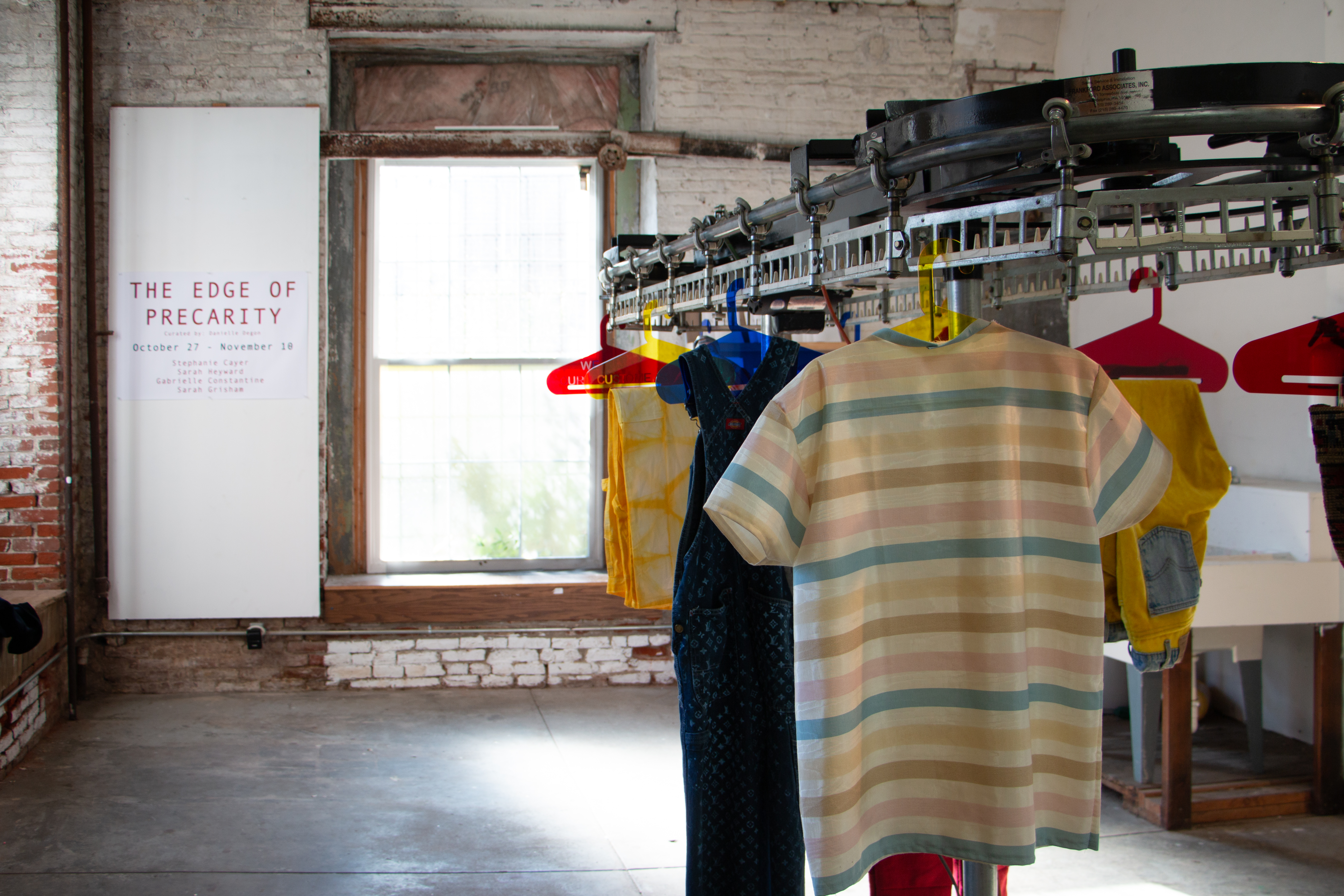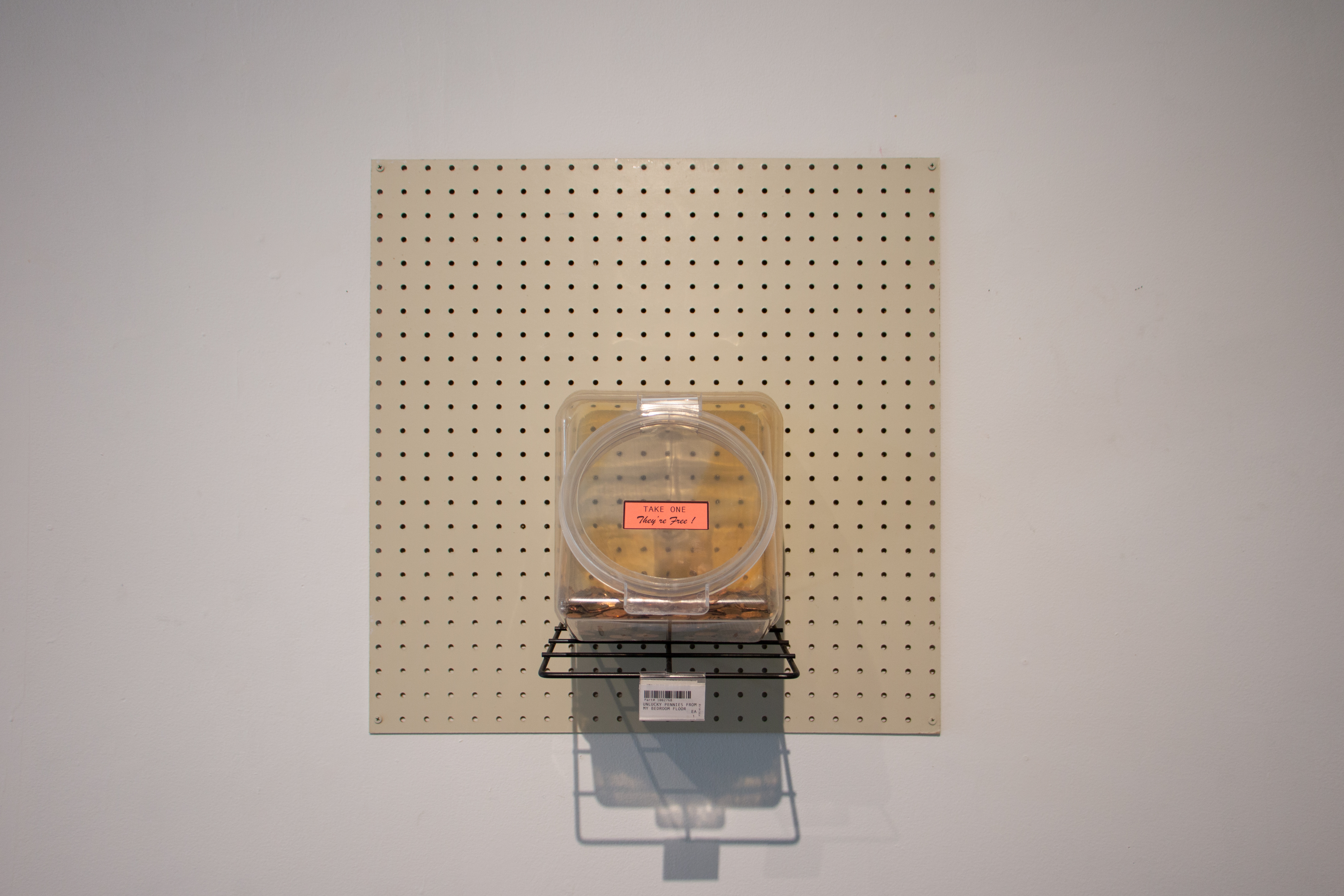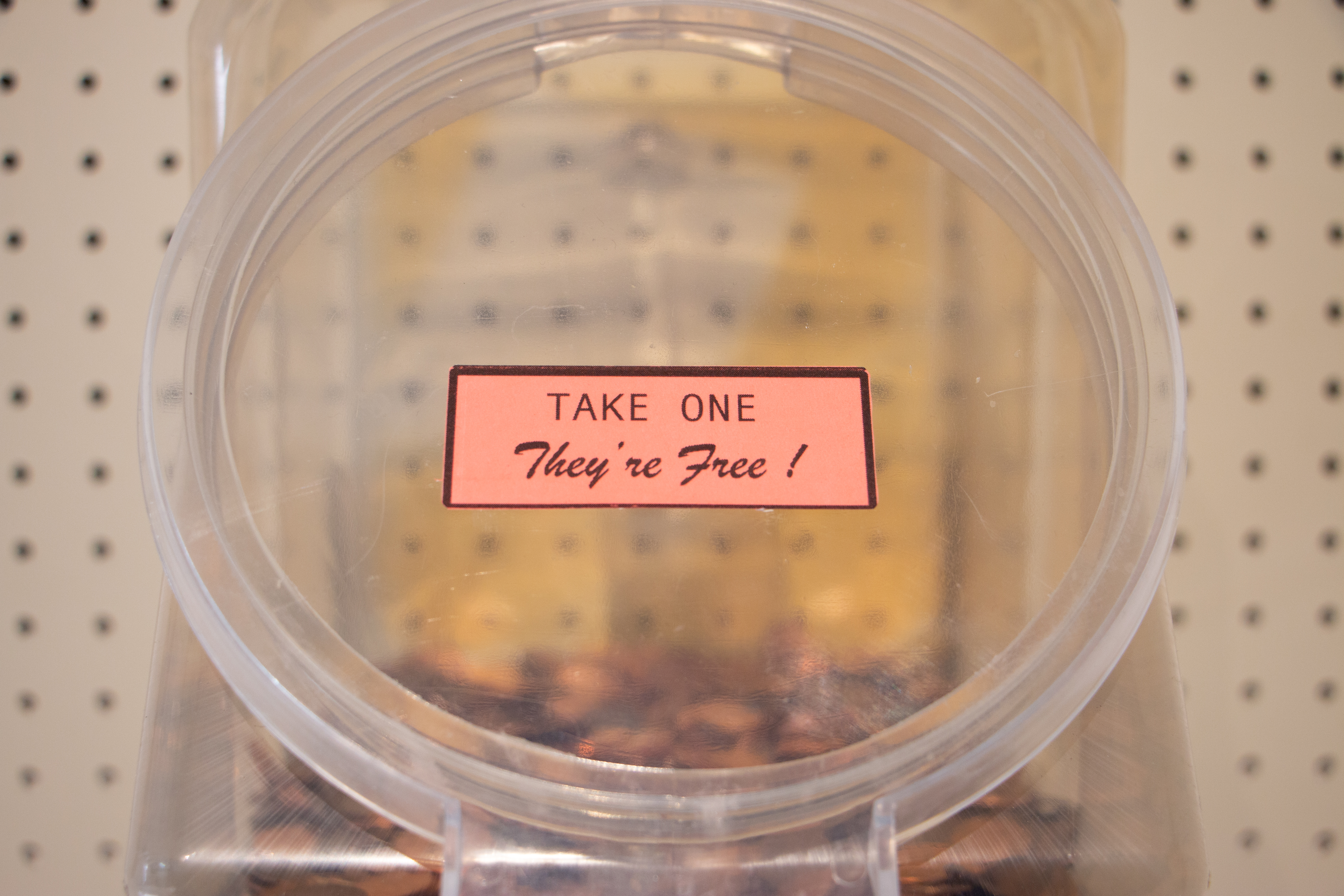 The Edge of Precarity

Artists: Sarah Heyward, Stephanie Cayer, Gabrielle Constantine, Sarah Grisham
Curator: Danielle Degon

Little Berlin | Philadelphia, PA
October 27 2018

An exhibition by Philadelphia artists investigating the differences between intellectual and material production, the expectation of productivity, and the alienation of extracted labor. Sarah Heyward, Stephanie Cayer, Gabrielle Constantine, and Sarah Grisham explore the depths of the unpaid labor they perform, the effects it has on the global market, and how to escape precarity though text paintings, textured sculptures, and receipt logs.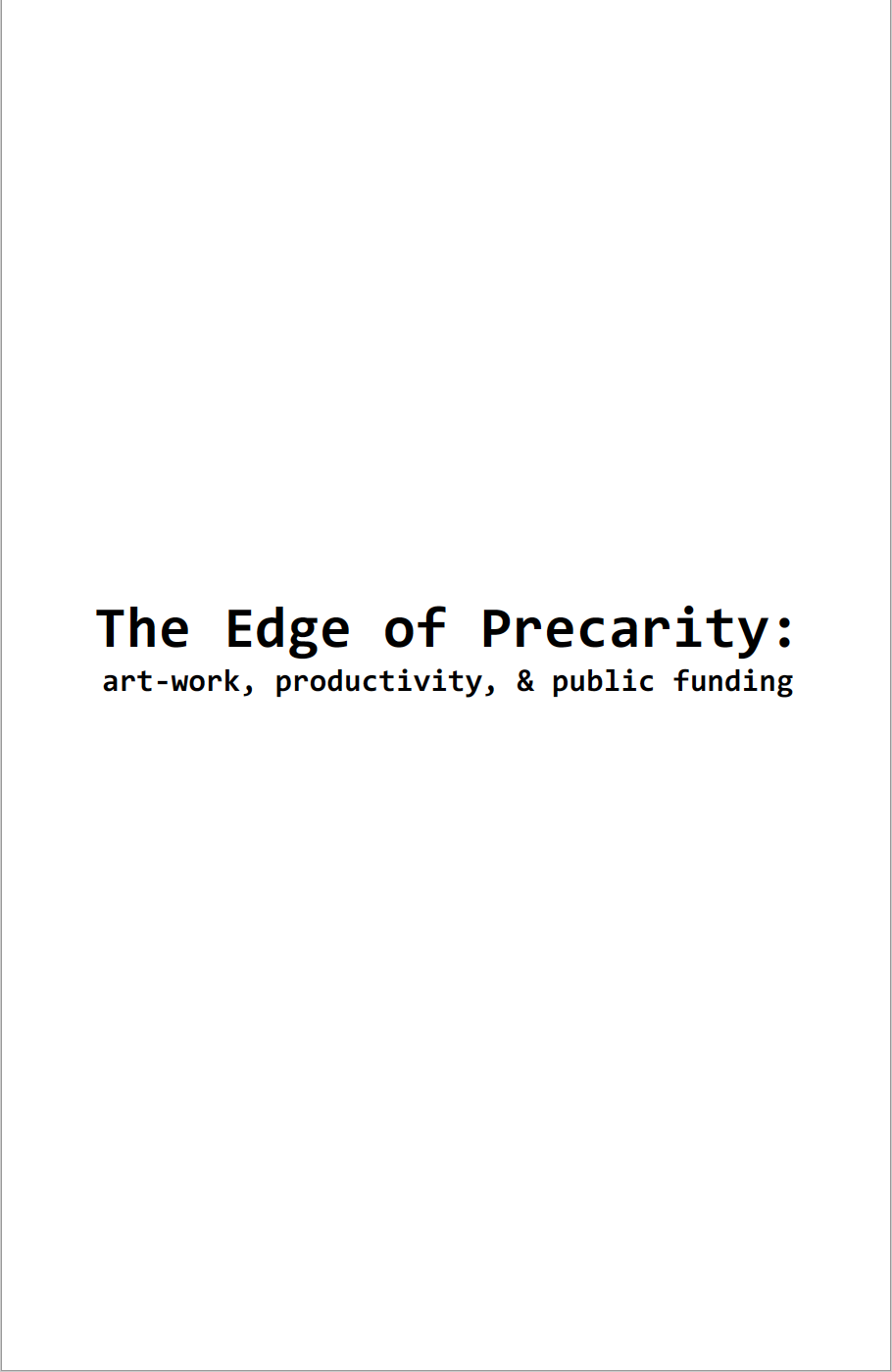 Art-work, Productivity, & Public Funding
written text

Little Berlin | Philadelphia, PA
October 27 2018

A call to action for artists and other exploited service workers feeling alienated by their constant quest for self-optimization. Through survey data and personal experience, I trace the reasons why artists don't get paid and provide evidence for why they should. After examining the effects of wage-labor and individualism on artists, I draw conclusions for the abolition of work and productivity.
Written in conjunction with The Edge of Precarity at Little Berlin in Philadelphia 2018.